But don't be fooled by its serene surface, as the real magic of this protected area lies beneath the waves.
As the oldest Marine Reserve in Seychelles and the first of its kind in the Indian Ocean, the St. Anne Marine National Park boasts some of the most exquisite snorkeling and diving sites in the archipelago. So be prepared to be awestruck by the vibrant coral reefs, playful bottlenose dolphins, graceful hawksbill turtles, and the sight of green turtles feeding on the largest seagrass meadows in the granitic islands.
Ready for a destination that offers so much more than meets the eye?
About Sainte Anne Marine Park
First off, let's take a trip down memory lane, 50 years ago when a groundbreaking event took place in the Seychelles. The Marine National Park, named after the largest of the islands it encompasses, was established in 1973 in the idyllic municipality of Mont Fleuri, making history as the first park of its kind in the Indian Ocean.
However, the park's original objectives were quite different from its mission today.
Back then, coral rock was a popular construction material, and sea turtles were consumed as a luxurious delicacy. Fishermen exploited the thriving fish population in the shallow waters to boost their catch, leading to the perilous threat of overfishing. And as tourism began to boom, marine biodiversity was in peril, putting the entire ecosystem at risk.
Fast forward to today, and the Marine Park is a thriving ecosystem with numerous species of flora, from mosses and lichens to seaweed and coastal shrubs. But it's the seagrasses that steal the show, providing food, habitat, and nursery areas for numerous species, including colorful red starfish, sea cucumbers, and manta rays.
And the most exciting part? With fishing strictly prohibited for half a century, the marine creatures in the park have been able to thrive and develop a sense of comfort around humans, providing every visitor with a truly unforgettable encounter.
About the Islands of the Park
As already mentioned, St. Anne Marine National Park consists of five stunning islands – Moyenne, Round, Long, Cerf, and the largest, Sainte Anne – as well as three uninhabited islets, including Cachée Island, Sèche Island (Beacon Island), and Harrison Rock (Grand Rocher).
Below, we provide a detailed breakdown of each island and offer suggestions on the top activities to experience on each one. To aid in your trip planning, we have also included a map of the islands.
So, let's dive in and discover the wonders of St. Anne Marine National Park!
---
Sainte Anne Island
Step onto the enchanting Sainte Anne Island, a tropical haven first settled by the French on the auspicious day of Saint Anne back in 1770. Its protected anchorage provided a secure haven, free from the reefs and mangroves found in Mahé.
Today, the island is home to a lavish 5-star resort showcasing six mesmerizing beaches, verdant tropical vegetation, and a secluded sanctuary perfect for those seeking the ultimate in privacy and luxury. Adjacent to the Resort are three white sand beaches, namely Grande Anse, Anse Royale, and Anse Tortues. For an unforgettable adventure, however, you have to venture off the beaten path to explore the lesser-known Anse Cabot, Anse Manon, and Anse Cimitiere beaches.
Sainte Anne Island is also renowned for its remarkable turtle nesting grounds, primarily home to hawksbill turtles with occasional visits from green sea turtles.
Lucky visitors may witness these majestic creatures laying their eggs between October and January and see the awe-inspiring sight of baby turtles making their way to the ocean for the first time from February to March. During nesting season, designated beaches are preserved for the egg-laying process, but fear not, there are several more beaches to explore where guests and turtles can coexist in harmony.
---
Cerf Island & Cachée Islet
Just a little smaller than Sainte Anne, the granitic Cerf Island possesses a few accommodation establishments and no paved roads, allowing you to enjoy nature in its purest form.
Surrounded by an enchanting underwater world, it offers superb snorkeling opportunities, especially at Anse Takamaka, where you will find a snorkel trail that guides you to the area's best underwater sights. Another unique feature of this beach, where the jetty is located, is that during nighttime it is lit up from below and thus turns into an aquarium.
Jungle trails take you through the lush vegetation of the interior of the island to the majestic 108m viewpoint, where you can marvel at the stunning panoramic views of the island's natural beauty. Along the way, you will encounter rare plants, giant tortoises, and even miniature chameleons, making for a truly unique and memorable experience.
While the island's beaches are incredibly shallow, disappearing entirely at high tide, during low tide, you can embark on a scenic walk around the island's shoreline. Don't miss the chance to visit the secluded islet of Ile Cachée, a nesting site for seabirds that lies just a few meters southeast of Cerf, and can be reached by wading through the water.
---
Round Island
Nestled amidst lush green forests, this petite circular island boasts of picturesque beaches and hidden coves perfect for an unforgettable swim. The entire area is a playground for divers and snorkelers with an abundance of fish and marine life thriving in the coral-filled waters between the islands.
Once used as a leper colony, Round Island now hosts a luxurious boutique resort, featuring private villas with individual pools and direct beach access. A leisurely stroll around the island takes less than half an hour, making it a perfect destination for a quick and peaceful escape.
---
Long Island
Long Island, which was previously a quarantine station for smallpox-infected sailors and later served as a juvenile prison, is now a breathtaking paradise featuring stunning, powder-soft beaches and shimmering turquoise waters. The island is blanketed with towering coconut palms, adding to its serene and idyllic ambiance.
---
Moyenne Island
Moyenne is a man's bid to create his very own paradise.
In 1962, Brendon Grimshaw, a former UK newspaper editor, purchased the long uninhabited island for £8.000 and settled there as its only full-time inhabitant. Grimshaw transformed the island, planting over 16,000 trees, building 4.8km of nature paths, and establishing a breeding program for Aldabra giant tortoises. He and a friend operated Moyenne as a nature reserve, welcoming day visitors to enjoy the Jolly Roger Bar, relax on the beach, and explore the island's beauty for a fee.
A conservation sanctuary for more than 100 wild tortoises that roam freely, Moyenne Island is nowadays a National Park in its own right, distinct from the Sainte Anne Marine Park.
The island boasts two pristine white-sand beaches that are hugged by massive granite boulders, and are complemented by a network of nature trails that meander through the lush vegetation, passing by pirates' graves along the way, all of which can be explored within a leisurely 45-minute stroll.
How to Get to Sainte Anne Marine Park
When it comes to how to get to Ste Anne Marine Park, it all depends on whether you plan to stay overnight or return to Mahé the same day. For those staying in the park, their accommodation will arrange everything while the rest can visit either on an organized day trip from Mahé or by chartering a private boat.
---
Free Hotel Transfer
If you choose to spend the night at any of the hotels in Ste Anne, Moyenne, or Cerf islands, you don't have to worry about transportation as your hotel will take care of everything. Boats depart from the Eden Boardwalk on Mahé, and the duration of the ride can range from 5 to 15 minutes, depending on the island you're staying on.
Moreover, the ride is usually complimentary for your arrival and departure to the island where your hotel is located! However, if you require additional transfers between the islands, your accommodation can arrange them for an additional fee.
— ORGANIZED TOURS —
On the other hand, if you're looking to explore Ste Anne Marine Park on a day trip, there are plenty of tour operators based in Mahé who can help you organize your excursion. You can book your tour directly with them in Victoria and Beau Vallon on Mahé, through your accommodation, or even online.
While most island hopping excursions to the marine park depart from Eden Island Marina, you can still enjoy hotel pickup and drop-off from anywhere on Mahé Island when you book a tour. Typically, non-residents are required to pay a landing fee of 200 SCR ($16), but if you book a tour, the landing fee, as well as snorkeling activities and a barbecue, are usually included in the tour price.
Private Charter
Another option is to privately rent a boat and travel independently to the marine park.
Non-residents are obligated to purchase a day ticket, which is presently priced at SCR200 for St. Anne Marine National Park, and the fees directly contribute to the conservation of the National Park. Overnight mooring permits are necessary for vessels intending to stay overnight in the marine park (from 5 pm to 8 am), and the fee is SCR250 per vessel per night.
Before renting a boat privately, make sure to confirm whether these fees are included in the rental cost.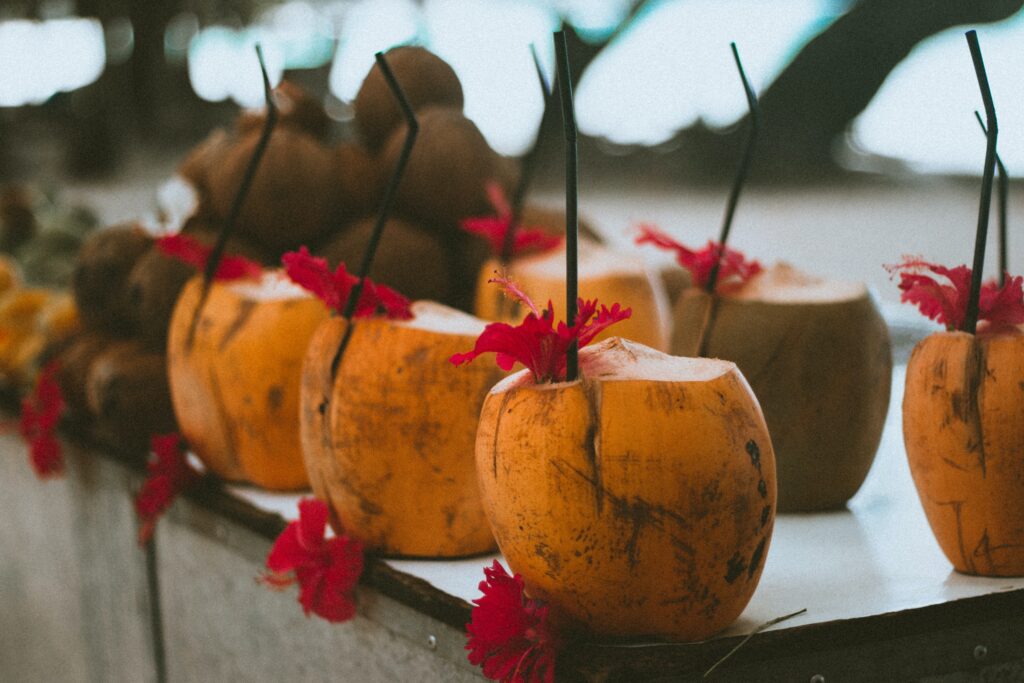 Where to Eat in Sainte Anne Marine Park
When it comes to dining within the Sainte Anne Marine Park in Seychelles, your options are somewhat limited. However, there are several excellent on-site restaurants within the resorts that offer delicious dining experiences. Aside from these, your other options consist mainly of beachfront buffets that serve lunch.
---
Island Opa Restaurant on Cerf Island offers a casual, beachfront dining experience, with a sumptuous authentic Creole buffet that includes fresh seafood, chicken, and curry. It's important to arrive on time as the buffet is only served from 13:30 to 14:30 daily. The buffet costs €20 per person and includes water, salads/vegetables, and fruit for dessert (excluding alcoholic beverages and soft drinks).
---
On the picturesque beach of Moyenne Island lies the Jolly Roger Bar, where guests can enjoy a laid-back atmosphere while sipping on drinks and savoring light meals. The bar was once owned and managed by Brendon Grimshaw, who bought Moyenne Island in 1962. But you´ve already read about it above, right?
---
Bounty Restaurant is a fine-dining venue situated within the JA Enchanted Island Resort on Round Island. Overlooking the resort's pool and ocean, the restaurant's menu blends Creole and international cuisine, with seafood, meat, and vegetarian options. The elegant and sophisticated atmosphere requires smart casual attire, and reservations are necessary for dinner.
Where to Stay in Sainte Anne Marine Park
Most visitors to the Sainte Anne Marine Park visit as a day trip and then head back to Mahé to spend the night. But those in the know understand that the true magic of the park can be best experienced by spending the night within its pristine borders.
And the good news is, you don't have to sacrifice comfort for adventure. The park offers a variety of lodging options on Cerf Island, from charming guesthouses to luxurious resorts. But for the ultimate in seclusion, you'll want to check out the hotels on Sainte Anne and Round islands. These exclusive properties are the only ones on each island, providing unparalleled privacy and seclusion.
---
Escape to the serene and secluded South Point Villas, nestled right on the seafront corner of Cerf Island. Each villa offers a private veranda, complete with outdoor seating and BBQ facilities, perfect for soaking up the idyllic setting. And for those who crave adventure, complimentary kayaks are at their disposal.
---
Discover the idyllic retreat that is Fairy-Tern Chalets on Cerf Island, where you'll find two premium self-catering chalets nestled amidst a lush tropical garden leading onto the beach. This family-run beachfront accommodation offers stunning views of the Indian Ocean and the garden, complete with BBQ facilities for guests to enjoy.
---
The island of Saint Anne is home to a single and unique hotel, the Club Med Seychelles Resort. Accommodations include a range of options, from deluxe rooms and suites to family suites and villas, some featuring private balconies or terraces with sea views. All meals and drinks are included in the all-inclusive package, and guests can enjoy everything from local Seychellois specialties to international dishes.
---
The resort features only ten enchanting private pool villas, one hilltop villa, and two hilltop lodge rooms, each designed in a classic French-colonial style with authentic Seychellois charm. Guests can unwind at the outdoor spa surrounded by nature or take a dip in the outdoor infinity swimming pool.
A trip to Sainte Anne Marine National Park promises an unforgettable adventure, particularly for snorkeling enthusiasts looking to explore the park's captivating underwater world. And for those looking to indulge in a lavish escape, the luxurious resorts nestled on the islands within the national park offer a secluded and luxurious escape from the mainland.
Whether you are an adventure seeker or a relaxation lover, Sainte Anne Marine Park offers something for everyone.