There are two other villages as well, Livadi and Petousis, but they are simply sparsely populated agricultural settlements where tourist facilities are nowhere to be found.
If this is your first time on the island, make sure to check out our Ultimate Travel Guide to Folegandros and our guide to the island's best beaches!
And now here we go over where to stay in Folegandros that can fit any budget!
Where to Stay in Chora
The island´s real character and appeal are to be found in the spectacular Chora, a genuine example of traditional Cycladic architecture. Perched on a clifftop plateau and undisturbed by traffic, which is banned from the village center, it is a pleasure to wander through.
Its meandering streets, flanked by whitewashed houses with wooden balconies blazing with bougainvillea, wind happily from leafy square to leafy square. Around them, amid quaint cafés, craft shops, and lively taverns and bars, is where the heart of the island beats.
---
Anemomilos Boutique Hotel
Overlooking the vastness of the Aegean, Anemomilos Boutique Hotel is perched on the edge of the cliff of Hora, where the village's only windmill used to stand. This has inspired the owners to name the Hotel "Anemomilos" (windmill).
Each of its 17 studios and suites has its own balcony or veranda, and almost all of them have a stunning view of the Aegean Sea. The shaded pergola area next to the swimming pool is the ideal spot to relax, read, and enjoy a drink with a jaw-dropping view of the nearby islands and the sunset!
---
Haraki Traditional Houses
Conveniently located within a short walk from the beautiful white-washed village of Chora, Haraki is not a conventional hotel. The traditional residential complex consists of nine studios and a trademark windmill, all featuring high-quality COCO-MAT mattresses and a fully equipped kitchenette.
A family-run hotel, it offers authentic hospitality for the independent traveler who seeks original experiences!
---
Anima Apartments
The Apartments were initially designed as the owners' personal residences, but after a lot of thought, they decided to let guests enjoy them and fall in love with them. Therefore, Anima Apartments are built with love, passion, personal work, and mental (anima) deposition, as stated in their name.
The small complex consists of 3 independent and self-catered apartments located in a quiet spot, a few meters from the village center and its beautiful squares.
---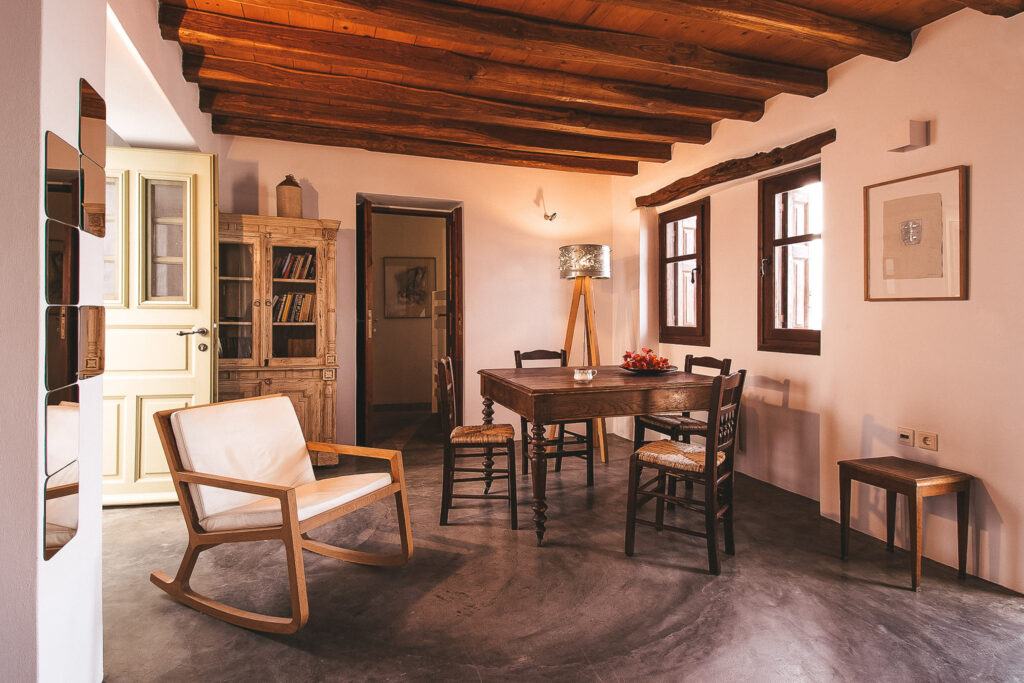 Alosanthos Private Residence
Alosanthos is located in the medieval neighbourhood of Castro, a strictly residential area where, except for houses, there are no other establishments. Meanwhile, the centre of the Chora is at a stone's throw.
Built 200 meters above the sea, it is literally mounted on the edge of a steep rock, offering breathtaking views. An independent 73m2 two-level traditional residence, it can host up to four guests and is ideal for families.
---
Themonies Luxury Suites
In an agricultural stone complex of the 19th century, Themonies Suits are crafted so as to blend harmoniously with their natural setting. The private verandahs and courtyards, furnished with comfortable designer teak, offer unobstructed views of Chora, the Church of Panagia, and the Aegean.
The spacious suites feature earthy colours and shades of white, linen and cotton fabrics, as well as rare antiques. Every one of them is unique, with their names being inspired by the local dialect.
A hearty and delicious homemade breakfast is served daily.
Where to Stay in Karavostasis
The harbour settlement of Karavostasi, whose name simply means "ferry stop", is where ferries and boats dock. It is serviced by a sprinkling of taverns as well as by several rooms and hotels. Within a kilometer north and south of Karavostasi lies a series of beaches, all of them pleasant and easily reached by short walks (5-15min).
In summer, there are many buses a day to Chora, four continuing to Ano Meria.
---
Onar Suites & Villas
Perched on the cliff above Vardia beach, Onar Suites & Villas offers guests panoramic views of the Aegean Sea and a 3min walk to the village of Karavostasi.
The seaside complex consists of three elegantly decorated suites and one private villa, opening to spacious, furnished balconies with a private swimming pool or an outdoor hot tub.
Guests can start their day with a continental breakfast, served in their room upon request.
---
Coral Apartments
Situated in a quiet area of Karavostasi and with free on-site parking, Coral Apartments are just steps from the port's beach, Chochlidia. They offer a variety of accommodations ranging from cozy studios with a private veranda to family apartments with balconies and sea views.
What we love the most is that, upon request, you can bring along your furry friend at no extra charge!
---
Vrahos Boutique Hotel
Built upon the slope of a rocky hill, Vrahos Boutique Hotel overlooks the Aegean Sea and the picturesque port of Karavostasi. All rooms offer sea views and mattresses and pillows by COCO-MAT, while some of them feature a private jacuzzi.
At the on-site Vegera Restaurant with the panoramic views, guests can enjoy traditional Mediterranean dishes and special wines from the Cellar. Breakfast is served there as well and includes local delicacies, organic fruit, and vegetables.
Where to Stay in Ano Meria
Northwest of Chora, a narrow, paved road runs down the spine of the island towards the rural village of Ano Meria. The settlement, stretching for several kilometres, is a string of farming hamlets and dwellings on either side of the road, surrounded by terraced fields. Steep paths from Ano Meria weave down to remote beaches and up to chapels with wonderful sunset views.
Even though this is the most authentic part of the island, staying here is not recommended unless you have your set of wheels.
---
Makarias Villa
Blissfully set on a tranquil edge of Ano Meria village, Makarias Villa artfully combines seclusion and privacy amidst unspoiled nature. This 85m2 eccentric escape blends vintage and rustic elements with local materials, exuding a peaceful and earthy vibe that invites nature in.
It features a private outdoor plunge pool, a fully-equipped kitchen, and luxurious linens, quilts, and cosmetics. It is perfect for star gazing, amazing sunsets, and an abundance of Mediterranean summer breeze!
For those who seek the ultimate traditional island experience and share a passion for cultural authenticity and individual character, Makarias Villa definitely hits the right note.
---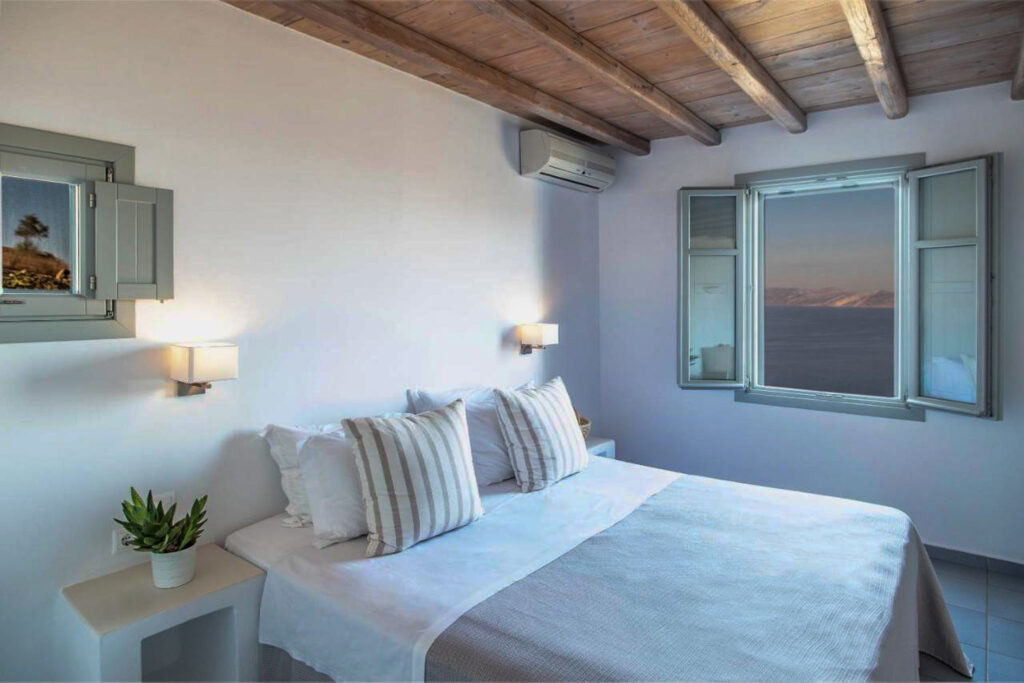 Provalma
Set amidst a small garden with a vineyard, Provalma features an infinity outdoor pool with unobstructed views of the Aegean Sea and Chora. The suites are spacious, spotlessly clean, and have an unpretentious elegance in tune with the Cycladic architecture.
Homemade scrumptious breakfast comes to your room daily in a basket and includes homemade pies, cake, eggs, cereal, and fruits. The views from the rooms are second to none, and you may even wanna set your alarm clock for the sunrise!
The staff is extremely friendly and helpful, and they will pick you up and drop you off at the port.
---
Hotel Anatoli
At the entrance of the village of Ano Meria, Hotel Anatoli offers unobstructed views of the sea. The sunrise, especially, is magnificent and hence the hotel's name ("anatoli" means sunrise).
There are three small buildings with 6 rooms in total, all of which are equipped with a kitchenette and supplies for making breakfast.
Right next to the hotel is the Ecomuseum of Folegandros, which is definitely worth a visit!
Where to Stay in Agali
Once upon not long ago, the picturesque Bay of Vathi could only be reached by donkeys descending from the main road. Nowadays, the bay, also called Agali, is the island's newest settlement coming into life solely during the summer months. A handful of taverns can be found here, as well as the better of the few basic rooms available on the island.
In high season, a private bus trundles out here from Chora up to ten times a day.
---
Blue Sand Boutique Hotel & Suites
Tucked into a steep valley, Blue Sand features 15 double rooms and suites that tumble down the craggy hillside straight into Agali beach. Adorning the minimalist Cycladic architecture with a chic bohemian twist, they capture the essence of barefoot luxury in their all-white interiors with touches of wood and stone.
All rooms and suites open up to private balconies with designer parasols and killer views. Nespresso machines, beach towels, and Apivita toiletries are a nice touch, too.
---
Kymanemi
Right on the waterfront, Kymanemi consists of six cozy and comfortable rooms with a magnificent view of the sea. All rooms have air-conditioning, a double bed, a private bathroom, and a refrigerator, while one also offers a kitchenette equipped with all the essentials.
Newly remodeled with modern furnishings, Kymanemi offers an impeccable guest experience at budget prices.
---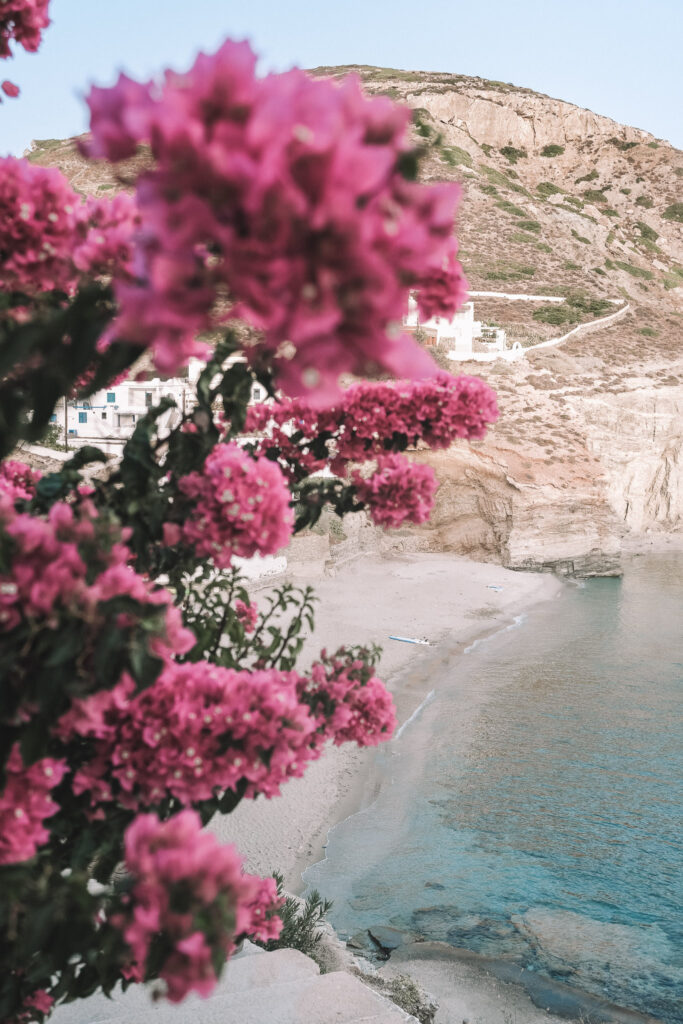 Pasithea
Overlooking Agali beach, Pasithea offers simple spacious rooms, some with private balconies and all with great views. The guestrooms are modern with built-in beds and a private bathroom. Guests can enjoy breakfast each morning before going out to enjoy the nearby beaches.
Pasithea Hotel is the perfect stay for those wanting an affordable place to stay in Folegandros, while also being a stone's throw away from the island's most popular beaches.
No matter where you stay on the island, the accommodation owner usually picks you up at the port and then drops you back off. The bus driver as well may be able to drop you off at your accommodation if you ask him to.
So choose your favourite accommodation and let your trip to this mesmerizing island begin!